Monday, 31 December 2012
Updated at 6:20 a.m. ET:
Happy new year! At least to those on Christmas Island. The Australian territory rang in 2013 at 5 a.m. ET on Monday. So did Kiribati and Samoa. They were the first populated places to do so.
More populous areas, including New Zealand, started a new calendar just an hour later, joined by Fiji and Tonga.
Meanwhile, Scotland was already a day into the party. International datelines hadn't been surreptitiously changed. Scotland was celebrating the annual festival known as Hogmanay, which kicked off Sunday night with thousands of torchbearers marching in Edinburgh to bid farewell to 2012 in a celebration drawing
Sunday, 30 December 2012
West Bromwich Albion striker, Osaze Odemwingie , has attributed his recent outburst against the Super Eagles Coach, Stephen Keshi, to anger arising from a feeling of betrayal by the coach.
Odemwingie had, at the wake of the release of the team list for AFCON 2013, taken to twitter to make some disparaging comments against the Super Eagles gaffer and the Nigeria Football Federation, NFF.
The out of favour Super Eagles striker also called the chairman of the NFF Technical Committee, Chris Green, 'names' over his exclusion from the AFCON squad.
The England based forward has now said he made statements, which were made in a fit of anger, after he had made it known to his coach andcolleagues that he was set to travel for the January 2013 Nations Cup in South Africa.
With less than 48 hours to another year, a communal clash has erupted in Gwako, under Gwagwalada Local Government Area of the Federal Capital Territory.
The spokesman for the National Emergency Management Agency, Yushau Shuaib, who stated this on Sunday, said the clash drew the attention of the agency and the Ministry of the Capital Territory to jointly activate their Search and Rescue teams.
The prompt intervention of the two agencies including security personnel from the police, civil defence corps and military had helped to curtail the escalation of the crisis which started Saturday as a result of encroachment of herds of cattle into farmlands in the area.
NEMA Director General, Muhammad Sani-Sidi, who commended the FCT Minister, Senator Bala Muhammad, for the promptness of his agencies and his physical presence at scenes, appealed to the warring parties to live peacefully with one another and eschew any form of violent as we enter the New Year.
Yola – No fewer than 20 persons were feared killed and inmates set free when unknown gunmen, Friday, struck in Maiha, Adamawa state.
Yet-to-be-identified gunmen in the early hours of today attacked the Adamawa State border town of Maiha, shooting at the police, and setting fire to police stations, courts, and the Government Lodge. The Adamawa State Police Public Relations Officer, DSP Muhammad Ibrahim, confirmed the attack, but could not give details, saying the police have yet to obtain them. He was on his way to the area at the time of the phone interview.
Residents said that about 40 gunmen in cars and on foot carried out the attacks on the border posts with neighbouring Cameroon, opening fire on police and chanting Allahu Akbar, (God is Greatest) at about 3:00am with heavy artillery. The gunmen overran the police station, carted away arms and ammunition, then proceeded to the prisons where the inmates were reportedly set free. The extent of casualties is still unclear. Some people said they saw two dead bodies, but also that several others were injured.
"At the prisons, 35 inmates were released, but 11 of them have been re-arrested," he said. The Adamawa Police Command Public Relations Officer, DSP Mohammed Ibrahim, also confirmed the attack and the killing of two individuals.
"We lost one of our men and a civilian," Ibrahim said.
Several vehicles and motorcycles parked at the affected areas, including those of customs and policemen, were burnt.
Also speaking,the Chairman of Maiha Local Government of Adamawa, Mallam Mohammed Jibrilla, said that the gunmen came on foot and motorcycles. Jibrilla told Saharareporters on the telephone that the gunmen divided themselves into groups before attacking their targets.
Is it the hair, the make up or what? She's been really stunning in all her recent photos.

Mercy Johnson Okojie gave birth to a baby girl a few hours ago in a hospital in the USA. Got the news just now from the people in the hospital with her. Mother and daughter are said to be doing great. Hoping to bring you pictures later. Big congrats to Mercy and her husband.
The Police Public Relations Officer in the state, Mr. Victor Babayemi, in a statement on Friday, said the suspect, Ayodele Jinadu, was arrested for alleged attempt to decapitate his victim who he had lured to a hotel.
The PPRO said the victim who had machete cuts all over her body was rescued and taken to the hospital where she was treated.
Jinadu said the suspect confessed to the police that he was sent by a man who needed the head for ritual purposes.
The statement read in part, "Operatives of the Ekiti command arrested Jinadu, 30, who lives No. 8, Eleguru Street, Ado-Ekiti, for attempting to take Kacha's life. The suspect was arrested on December 19 at Sharp Corner Hotel, Ado-Ekiti, where he inflicted severe machete cuts on the victim.
"During interrogation, he confessed that he was sent by a man at Ikere to bring a human head for rituals. His confession led to the arrest of his accomplices, Seun Ariyo, 28, and Tope Bebere, 35, both of Ikere-Ekiti.
A passenger jet crashed after making a hard landing at Moscow's Vnukovo Airport. At least four people were killed and four critically injured, says the Interior Ministry. Officials believe the cause could be pilot error.
Two people were reportedly found dead at the scene, while a 27-year-old woman died on the way to hospital.
Whether the fourth person died at the scene or in the ambulance remains unclear. Those killed are
the captain, the co-pilot, the flight engineer and a flight attendant
, the Emergencies Ministry declared.
Four people taken to Moscow hospitals – three flight attendants and a technical staff – remain in a critical condition. They have sustained traumatic brain injuries, say medical officials. The plane was flying in from Pardubice, the Czech Republic, and was carrying eight to twelve people according to various reports. Vnukovo Airport says that everyone onboard were the crew. Pardubice Airport confirms:
A 19-year-old man intentionally slammed his car at 100 mph into a guardrail, and then smothered his 17-year-old girlfriend by sitting on her head after learning that she might be pregnant, according to police.
Police filed homicide and other charges last week against Benjamin Daniel Klinger, 19, of Elizabethtown, Pennsylvania, for the December 4 death of Sammi Heller on an interstate near Manheim.
'At first glance, this appeared to be simply another tragic vehicle accident,' Lancaster County District Attorney Craig Stedman told the Intelligencer Journal/Lancaster New Era. 'However, the police worked hand-in-hand with our forensic experts and saw this was far more complicated, sinister and certainly criminal.'
The bizarre and tragic incident unfolded at around 2am on Route 283 in Ralpho Township when police say Klinger rammed his Toyota sedan into a guardrail, and then proceeded to smother his girlfriend.
Heller, a senior at J.P. McCaskey High School, was described in her obituary as athletic and a lover of motorcycles and horses. According to court documents, the 17-year-old and Klinger had a rocky on-again,
*File photo: Wreckage from a car accident
At least four people were killed and 10 others injured when two vehicles collided along the Benin-Ore Expressway, the Federal Road Safety Corps, FRSC, has said.
The dead include two men and two women while the 10 injured were four men, four women, and two children.
The FRSC said the accident involved a truck with registration number XW 471 ABC and a Toyota Hiace bus with registration number XA 911 AAH.
The accident occurred at Igbogui Village on the Benin-Ore Expressway on Saturday evening.
"The corpses and the injured have been taken to Shiloh Medical Clinic, Igbogui. Clearing of the road is ongoing," the FRSC said on its facebook post.
The singer posted this photo showing her engagement ring on her Instagram page today. She got engaged to her man of many years, music exec Ryan Press, on Christmas day after months of being vocal about wanting a ring.
I wish we were engaged. He's taking a little long on the ring side of things, but I'm patient. - Brandy told Ebony magazine earlier this year
What did Nigerians search for on the web in 2012? According to Google's annual Zeitgeist list, Davido, Victor Moses, Rashidi Yekini, Whitney Houston were some of the most searched people of 2012.

Joint Admissions and Matriculation Board (JAMB), Boko Haram, Asuu strike, Vanguard News were some of the most searched terms of 2012.

See the top 10 searches and people of 2012 after the cut...
The wrecked car after the accident.
*Undergoes 2-hr surgery in  Abuja
Contrary to insinuations, Governor Idris Wada of Kogi State may not be flown abroad for the treatment of the injuries he sustained in the accident involving his convoy on  Friday.
Doctors at the hospital where the governor was receiving treatment hinted, yesterday, that Wada rejected the option of flying him abroad for further treatment after undergoing what was described as inter-locking nail surgery on his thigh broken in the crash.
The surgery, which lasted two hours, was said to have been successful.
Spokesman for the governor, Mr Jacob Edi, echoed the doctors position when he said his principal was stable.
"I saw His Excellency after the unfortunate accident. He has been stabilised since last night (Friday). I spoke with him and he shook my hands. It was after he stabilised that he was flown to Abuja,"Edi told Sunday Vanguard.
The governor was said to have suffered a broken thigh among other injuries when his vehicle ran into a ditch after a burst tyre on Friday afternoon at Emi Woro village, about 12 kilometers to Lokoja, the state capital.
What started off as a quiet Thursday morning turned into horror for a family when man gunned down his wife Hilda Maphosa (24) and his mother-in-law, Joice Maphosa (54).
In an interview at his homestead in Tshanotshi Village, 40km outside Beitbridge town, Zimbabwe, Hilda's father Mr Nehemiah Maphosa said his son-in-law Tinandava Muleya (37) arrived at around 8am with a view to resolving a domestic dispute he had had with his wife the previous day.
Officer commanding Beitbridge Police Chief Superintendent Chinhengo said Muleya is still assisting them with investigations. He said they recovered the 9mm pistol which Muleya allegedly brought from South Africa.
"On several occasions, we resolved disputes between Tinandava Muleya and his wife Hilda Maphosa, who is my daughter over alleged extra-marital affairs on his part. On Thursday, he drove here after they had
Saturday, 29 December 2012
Despite the problems encounter before getting to the show venue, D'banj who recently put up a flopped show on the Island recently was said to have insulted his fans.
His woeful performance aside, many of fans, who stayed awake all night to see him perform at the concert and those watching the live stream of the event on NdaniTV, said Dbanj's worst blunder of the night was when he said: "The people wey pay me money na dis side dem dey" (those that paid me are on this side) while apologising to those at the VVIP section of the concert for below-par arrangement made for them.
At a point he even asked those at the popular and VIP sections to apologise to those at the VVIP for the inconvenience they suffered. Fans at the popular section and VIP paid 5,000 and 20,000 respectively. Many of his fans who felt insulted reacted sharply:
New Corper's Uniform Or What Do We Call This?
A friend sent this from one of the NYSC Camps. I never knew any type of dressing could be allowed in a quasi military training like NYSC Scheme. Naija We Hail Thee
Famous Nollywood actor, Kanayo .O. Kanayo is now a Minister of the gospel.
He was one of the guest ministers, at a crusade held at the Christ Mission Worldwide (CMW) a.ka. Mission for Heaven, with the theme: "Powers of darkness cannot stop me".
Kanayo joins acting veterans like Liz Benson and Eucharia Anunobi, who have also heeded the call of God.
The Kogi State Governor, Idris Wada, who survived a road accident on Friday with a broken thigh bone, is responding to treatment in an Abuja hospital, his doctor has said.
Felix Ogedegbe, the Medical Director of Cedarcrest Hospital, Abuja, where Mr. Wada is receiving treatment, said the governor's fractured thigh bone, femur, has been fixed. Mr. Ogedegbe, an Orthopaedic Surgeon, said on Saturday, while addressing journalists that the Kogi governor did not suffer any life threatening injuries and may not be referred to a hospital abroad.
On Friday, along the Lokoja-Ajaokuta highway, Mr. Idris' convoy was involved in a fatal auto crash that killed his security aide, Idris Mohammed, on the spot and injured two other officials. He was checked in with Mr. Ogedengbe at the Abuja Hospital at about 8.00 p.m. after receiving first aid in a specialist hospital in Kogi.
The Praying Hitler Statue
Controversy has arisen in Warsaw, Poland as a result of a piece by Maurizio Cattelan.
The Italian artist has created a statue of Adolf Hitler praying and placed it in the former Warsaw Ghetto, a location that saw numerous Jews killed by the dictator during his regime.
It is titled "HIM," is only visible from a long distance and is meant to force a contemplation on the nature of evil, according to organizers.
However, Jewish advocacy group the Simon Wiesenthal Center doesn't see it that way.
The organization says the placement of the artwork represents "a senseless provocation, which insults the memory of the Nazis' Jewish victims."
Adds the group's director, Efraim Zuroff:
"As far as the Jews were concerned, Hitler's only 'prayer' was that they be wiped off the face of the earth."
VASTERAS, Sweden, Dec. 28 (UPI) --
A Swedish hospital said new precautions are being taken after a dentist's drill unattached during a procedure and ended up in a patient's lung.
Officials at the Vastmanland Central Hospital in Vasteras said the drill became loose and fell into the mouth of a 60-year-old woman, who was undergoing dental implant surgery last September, The Local.se reported Friday.
"She tried to spit it out, and was made to cough, but she'd already swallowed," said Per Weitz, the hospital's medical chief.
Weitz said an X-ray revealed the drill was lodged in the woman's right lung and a bronchoscopy was performed to remove the object.
"A pinky-sized tube was sent into her lung with a small camera and pliers to grab hold of the drill," Weitz
A Hollywood private investigator, Paul Huebi,  says he has 'video evidence' that singer Whitney Houston was murdered.
Huebi said he had uncovered "evidence that points to Whitney being a victim of a high-powered drug dealers who sent thugs to collect a huge debt she owed for drugs."
He claims surveillance footage shows two unknown men showing up repeatedly at the Beverly Hilton, where Houston was staying when she died, and hanging out with her entourage.
The day before her death, Houston reportedly received a cocaine delivery but was later heard to say, "I'm tired of this sh*t."
Huebi says she was, in fact, alluding to ongoing harassment by dealers chasing a drug debt, which had reached $1.5 million.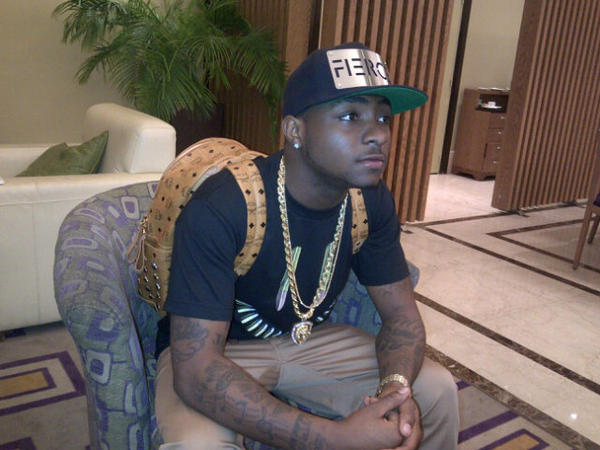 Well, last night, news broke out that Davido, after Karen Igho had just received a slap of life from a king.
According to the gist, Davido was slapped by King Saheed Elegushi at the after-party of the Dynamix awards which took place at Voodoo lounge, Elegushi beach.
Someone, B-Red supposedly got heavily drunk, got into an argument with the King when Davido moved forward to touch the king.
In a flash the monarch allegedly delivered a hot slap on Davido's face and they were mercilessly beaten including Davido's bouncer by the Elegushi guards.
Travellers leaving Lagos are going through harrowing experience driving through the Lagos-Ibadan expressway.
The cause of the traffic gridlock is not yet  known but this reporter is making efforts to ascertain the cause of the traffic jam.
This is current situation on Lagos-Ibadan Expressway…
Meanwhile, many vehicles leaving Lagos, mostly those going to the Eastern part of the country, are stuck in the traffic . The situation is compounded as there was no alternative routes to avoid the gridlock.
Despite the fact that some weeks have passed since the fire disaster that wiped out five children of Mr. & Mrs. Augustine Ikwuagwu on Comfort Oboh Street, Kirikiri Town, Lagos, its bitter memory still lingers. Indeed, the tragedy has been a nightmare to the couple. When Saturday Sun met with the couple recently, pain and agony have overwhelmed them, as they recounted their loss.
Speaking amid tears, Mrs Margaret Ikwuagwu, said her fine kids, Chukwuemeka (13), Ifeanyichukwu (10), Bright (8), Joy (6) and Victoria (4) were sleeping in the house when the incident started at 10pm. She said that all efforts to rescue the children failed. "I asked my children to go and sleep in the room while I was preparing to close shop for the day.
Then, shortly, someone ran to tell me that our house was on fire. I abandoned everything I was doing and ran down to the house. When I got there, the fire had already covered the whole place and I could not enter my room to rescue my children," she said. Mrs Ikwuagwu explained that she cried for help, but no one came to
Obafemi and Abigail in a private jet
Obafemi Martins is dating Mario Balotelli's elder sister, Abigail Barwuash and Mario is said not to be particularly happy about their relationship. But in a recent interview with Goal.com, Obafemi dismissed insinuations that Mario was not happy that he's dating Abigail
"Mario is my boy. The respect is there because I used to play at Inter, in the youth team with him. He's giving me my respect and I'm doing same. People are putting it in the news that he's upset, of course he's glad.
"He's glad that Obafemi Martins is dating his sister. But if he gets jealous then it means he doesn't want his sister to grow. But it's not like that. The boy is not a bad boy.
He also said he and Abigail haven't discussed marriage yet.
The burial ceremony of Gen. Owoye Azazi, who died in a helicopter crash on Saturday December 15th, is going on right now in Yenagoa, Bayelsa State.