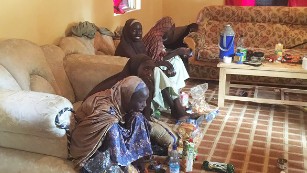 Of the roughly 197 Chibok schoolgirls who still are unaccounted for after Islamist militants kidnapped them in Nigeria two years ago, only 83 will be negotiated for when the West African nation's government resumes talks for their release, two sources with direct knowledge of the negotiations said.
That's because the rest -- about 114 -- have either died, been married off, or become radicalized and don't want to leave their Boko Haram kidnappers, the sources said.
Negotiations between Boko Haram and the Nigerian government over the captives are expected to resume Monday, four days after the militant group handed over 21 former Chibok schoolgirls to
authorities in northeastern Nigeria.
Boko Haram kidnapped 276 girls and women, ages 16 to 18, in the middle of the night at a boarding school in Chibok, Nigeria, in April 2014, drawing global outrage.
As many as 57 girls escaped almost immediately in 2014, and one was found this spring.
If the sources are correct about the number of dead or otherwise unavailable, that would mean more than 40% of those who were kidnapped in 2014 stand no chance of being brought home alive or no obvious immediate chance of being retrieved through negotiation.
Sources: Boko Haram was paid to release 21
While the Nigerian government has said Boko Haram released the 21 as a result of negotiations brokered by the Swiss government and the International Committee of the Red Cross, it hasn't said what the militant group may have received in return.
Two sources close to the negotiations told CNN that Boko Haram received money as part of the deal. The sources did not disclose the amount.
The Nigerian government has not publicly and specifically addressed the issue of money. Nigerian Information Minister Alhaji Lai Mohammed told reporters Thursday that the girls' freedom "was not a swap."
"It is a release, the product of painstaking negotiations and trust on both sides," Mohammed said.
There was conflicting information about whether captured Boko Haram fighters were released as part of the deal.
The Nigerian government has said there was no prisoner exchange. Two sources close to the negotiations also said no Boko Haram prisoners were released.
However, one source close to the talks said "a number of Boko Haram commanders" were freed as part of the deal to release the 21 former Chibok schoolgirls.
Source: CNN